ROSEVILLE, Calif., Aug. 3, 2023 (SEND2PRESS NEWSWIRE) — US Kidney Research Corporation (USKRC) is delighted to announce new groundbreaking research as part of a contract with the University of Arkansas (U of A) resulting in the development of an ultrafiltration membrane with diverse filtering applications for medical and non-medical devices. This remarkable membrane represents a significant advancement, particularly in the field of dialyzers, the filtration device used in hemodialysis machines to remove toxins, promising improved dialysis performance and enhanced ultrafiltration flux.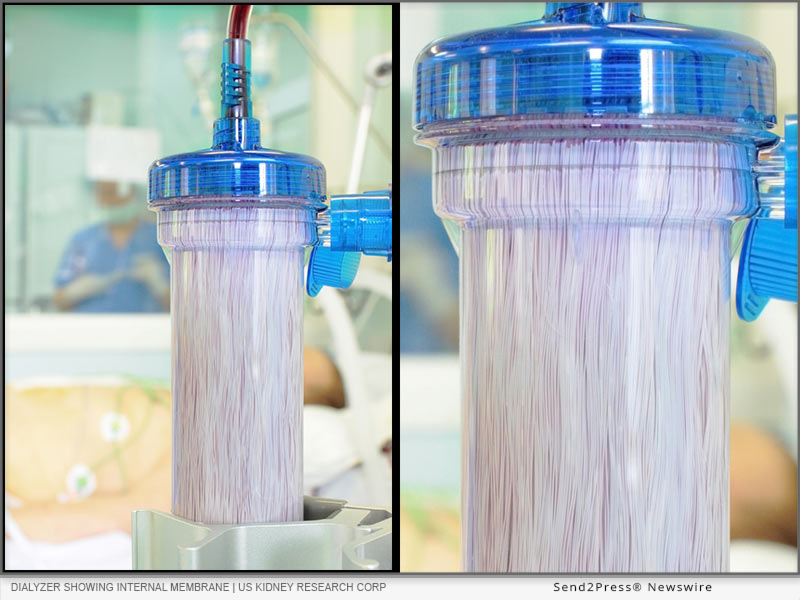 Image caption: Dialyzer showing internal membrane.
The recently published research in Scientific Reports (https://www.nature.com/articles/s41598-023-37765-y) unveils a novel membrane created through a tempo cellulosic oxidation process and cast using ionic liquids. Notably, the membrane showcases exceptional biocompatibility, the ability to clear potential uremic toxins, and excellent stability. Its unique structure, characterized by the alignment of fibers after casting, leads to an extraordinarily high flux and substantial BSA rejection in ultrafiltration mode, surpassing the performance of traditional dialysis membranes.
"We were highly impressed by the membrane's behavior and performance; the fiber alignment in the final structure allows for superior functionality compared to conventional dialysis membranes," expressed Jamie Hestekin, one of the lead researchers at U of A.
As part of this concerted effort, USKRC has secured worldwide rights for the patented U of A membrane in all biomedical applications. USKRC's founder and CEO Roland Ludlow, revealed that the corporation intends to explore sublicensing partnerships both domestically and internationally, with the aim of expediting the introduction of this cutting-edge membrane technology to the market, enabling its use in dialysis and other relevant applications.
Dr. Ira Kurtz, Chief of Nephrology at UCLA, who is an author on the Scientific Reports paper and serves as the lead medical/scientific advisor to USKRC commented, "This new membrane chemistry could be a game changer in the care of renal patients."
USKRC is actively engaged in several other research projects, including the development of a waterless portable blood purifying device that could potentially replace current dialysis machines, an implantable artificial kidney, and a coating to prevent blood coagulation within medical device tubing and catheters. The company has solidified its position as a leader in renal therapy research, earning prestigious recognition as a two-time winner of the KidneyX contest, sponsored by the American Society of Nephrology and the US Department of Health and Human Services. Monetary awards for KidneyX were generously provided by the US Congress and the American Society of Nephrology.
About US Kidney Research Corporation:
US Kidney Research Corporation (formerly Curion Research Corporation), is an award-winning company incorporated in Delaware (C-Corp), founded in June, 2015. The company is creating the world's first waterless blood purification technology for use in a portable device and ultimately an implantable artificial kidney, as well as other novel technologies to improve the lives of patients with end stage renal disease (ESRD) or acute kidney injury (AKI). US Kidney Research Corporation has patents for its waterless blood purifying technology in USA, Japan, India, S. Korea, China, along with 17 European Unitary patent member countries.
More information: https://www.uskidneyresearchcorp.com/
MULTIMEDIA:
PHOTO link for media: https://www.Send2Press.com/300dpi/23-0803-s2p-uskidneyrc-300dpi.jpg
Image caption: Dialyzer showing internal membrane.
News Source: US Kidney Research Corporation
To view the original post, visit: https://www.send2press.com/wire/us-kidney-research-corp-unveils-breakthrough-ultrafilter-membrane-for-dialysis/.
This press release was issued by Send2Press® Newswire on behalf of the news source, who is solely responsible for its accuracy. www.send2press.com.