NEW YORK, N,Y,, Nov. 1, 2023 (SEND2PRESS NEWSWIRE) — Are you tired of reading long PDFs? Not anymore, as Tenorshare has launched Chat PDF AI in October, 2023. It is a revolutionary tool that helps you read and summarize PDFs in a time-efficient way.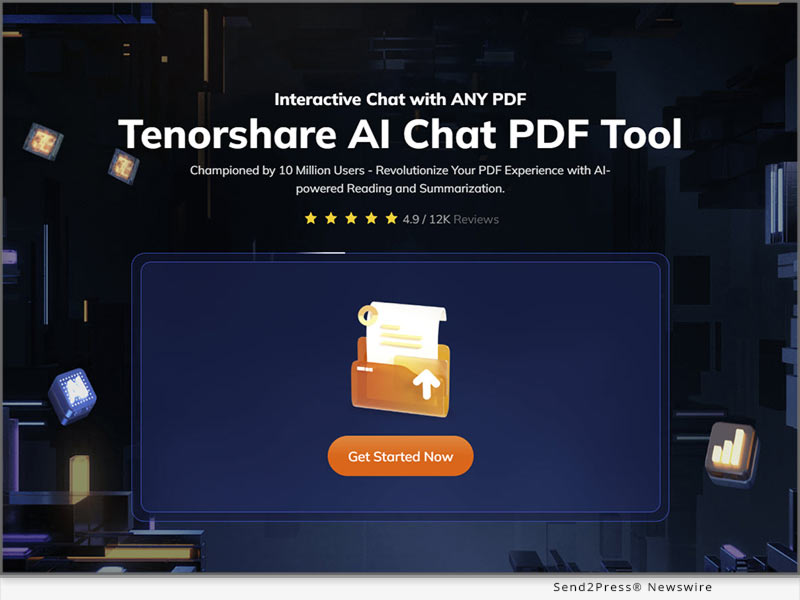 Image Caption: Tenorshare AI Chat PDF Tool.
What is Tenorshare AI Chat PDF Tool?
Tenorshare Chat PDF is an AI-powered tool that has made reading lengthy PDFs a breeze! It works by summarizing PDFs and gives the main idea of the document without having to read the whole thing.
Additionally, it helps extract information from a particular section of a PDF without manual scrolling. Not to forget its AI chat feature that is supported by ChatGPT and enables you to get accurate answers to all your questions related to the PDF.
Some primary features of Tenorshare Chat PDF AI include:
Creating concise summaries of PDFs
Extracting key information from PDFs
Answering questions related to the PDF
Interpreting text for enhanced reading
Why Choose the Tenorshare AI Chat PDF Tool?
Chat PDF AI free is a web-based tool that enhances your PDF experience in a number of ways. Here are some reasons why choosing Tenorshare Chat PDF AI is worthwhile:
It has a free version that allows you to upload 3 PDFs per day, with 30 pages each
It is a web-based tool, so you don't have to download anything
You can chat with PDF to extract relevant information from the document
It helps summarize long articles
It uses SSL encryption to keep your private information secure and protect the uploaded document from data leakage
You can delete uploaded PDFs at anytime
How to Use Tenorshare AI Chat PDF Tool to Chat With Any PDF Document?
Tenorshare Chat PDF free is a user-friendly tool with a straightforward process. Here are the steps to use it:
Step 1:
Go to Tenorshare Chat PDF Online and upload the PDF file you want to summarize.
Step 2:
Log in to your account, or if you don't have one, create a new one.
Step 3:
Once you have logged in and your PDF has been uploaded, you can start a chat with Chat PDF AI. You can ask it to summarize the text, answer a question related to the PDF, retrieve information from within the document, etc.
And that's how you can make the most of the best chat PDF AI tool.
Learn more now at: https://ai.tenorshare.com/chat-pdf/
About Tenorshare:
Founded in 2007, Tenorshare is a software company that develops data recovery, device management, password recovery, and system repair software for iOS, Android, Windows, and Mac devices. Their products are used by over 10 million users worldwide.
Tenorshare's software is known for being easy to use and effective. It is also regularly updated to support the latest devices and operating systems.
In short, Tenorshare is a leading provider of software solutions for managing, recovering, and repairing mobile devices and computers.
Website: https://www.tenorshare.com/
YouTube: https://www.youtube.com/@TenorshareOfficial
Facebook: https://www.facebook.com/TenorshareOfficial/
News Source: Tenorshare Co. Ltd.
To view the original post, visit: https://www.send2press.com/wire/tenorshare-ai-chat-pdf-tool-launched-your-best-chat-pdf-ai-choice/.
This press release was issued by Send2Press® Newswire on behalf of the news source, who is solely responsible for its accuracy. www.send2press.com.