NEW YORK, N.Y., Sept. 28, 2023 (SEND2PRESS NEWSWIRE) — HitPaw is thrilled to announce the release of HitPaw Video Object Remover (Win) V2.0.0, a game-changing update that elevates the world of video editing to new heights. These updates are designed to enhance the user experience, making HitPaw Video Object Remover (Win) V2.0.0 the ultimate tool for video editors of all levels.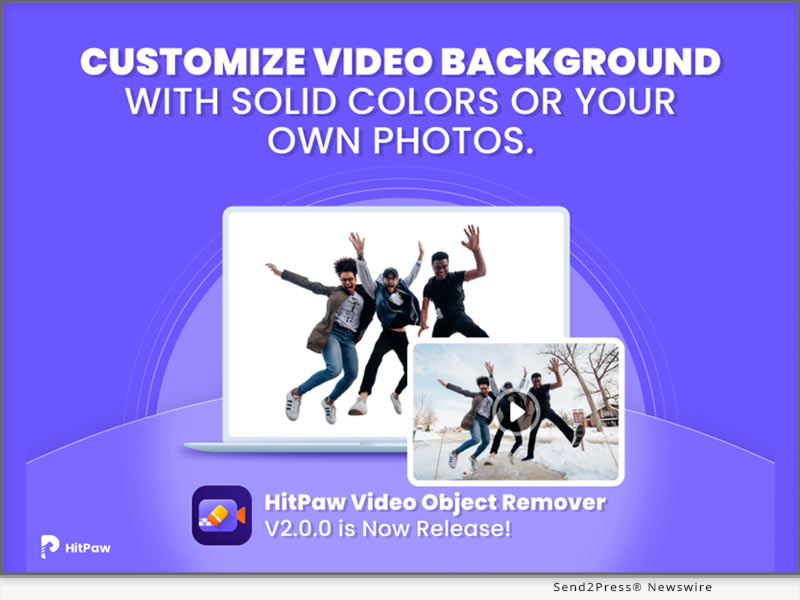 Image Caption: HitPaw Video Object Remover.
WHAT'S NEW:
We've supercharged our AI model for object removal, delivering even more precise and impressive results. Say goodbye to unwanted elements in your videos effortlessly.
Improved Tracking and Removal
We've fine-tuned our tracking and removal capabilities to ensure a smoother and more effective editing process. Your videos will look flawless and professional.
The star feature of this update is the ability to upload your own images for background replacement. Now, you have the freedom to replace video backgrounds with your favorite pictures, unleashing your creativity.
Generic Picture Background
In addition to custom uploads, we provide a selection of generic picture backgrounds for replacement. It's never been easier to give your videos a fresh look.
Learn more: https://www.hitpaw.com/hitpaw-object-remover.html
Compatibility and Price:
HitPaw Video Object Remover is now compatible with Windows 11/10 64-bit and macOS 10.15 and above. The pricing starts from $39.99 USD for a month plan.
For more price checking and information, you can visit https://www.hitpaw.com/purchase/buy-hitpaw-object-remover.html
About HitPaw:
HitPaw is a leading software provider dedicated to simplifying the world of multimedia editing. Our innovative tools empower creators to bring their ideas to life, whether through video editing, photo enhancement, or more. With user-friendly interfaces and cutting-edge technology, HitPaw software is designed for both beginners and professionals.
To know more, you may visit https://www.hitpaw.com/
Our Social Media
YouTube: https://www.youtube.com/channel/UCQwRggaotgiMcPbiCOsJeBA
Facebook: https://www.facebook.com/hitpawofficial
X/Twitter: https://twitter.com/HitPawofficial
Instagram: https://www.instagram.com/hitpawofficial/
Pinterest: https://www.pinterest.com/HitPawofficialwebsite/
News Source: HitPaw
To view the original post, visit: https://www.send2press.com/wire/hitpaw-video-object-remover-v2-0-0-announced-a-revolutionary-upgrade-for-seamless-video-editing/.
This press release was issued by Send2Press® Newswire on behalf of the news source, who is solely responsible for its accuracy. www.send2press.com.