PLANO, Texas, Aug. 8, 2023 (SEND2PRESS NEWSWIRE) — Sports Connect, the leading registration provider for sports organizations by Stack Sports, is delighted to announce its latest partnership with the esteemed Catholic Youth Organization, New York (CYO NY). The alliance marks an exciting chapter in the realm of youth sports in New York, with Sports Connect becoming the official registration provider for CYO NY for the next three years.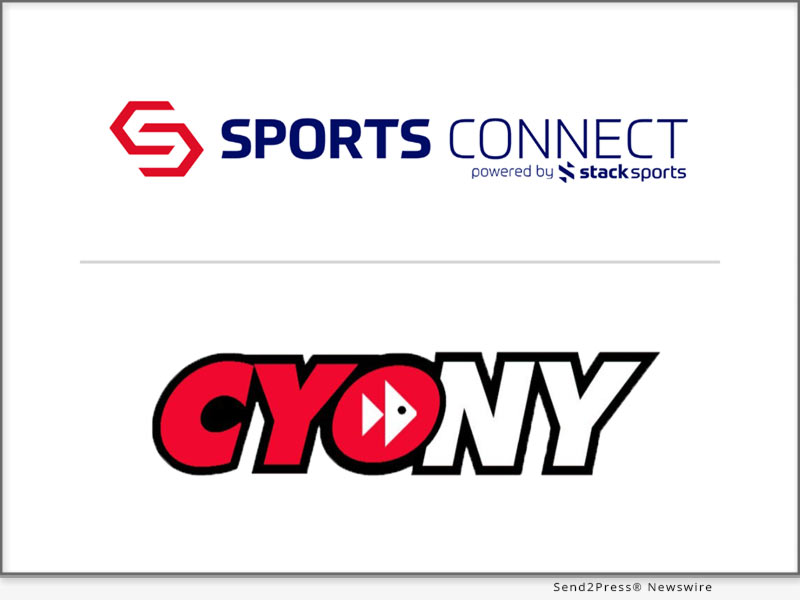 Image Caption: Sports Connect and CYO NY.
"We are thrilled to join hands with the Catholic Youth Organization, NY, and become their official registration provider," said Adam Abney, the General Manager of Sports Connect. "At Sports Connect, we are passionate about fostering and growing youth sports participation, and this partnership provides us with a tremendous opportunity to serve our new partner and contribute to the development of young athletes in New York across a variety of sports programs."
Sports Connect will extend its services to a vast network of 140 parishes and clubs associated with CYO NY as part of this collaboration. The parishes opting for Sports Connect's solutions will receive a host of exclusive benefits to streamline their sports administration and enhance the overall experience for athletes, parents, and administrators.
"Prior to making this investment, we conducted extensive research in the ultra-competitive youth sports technology space. Our primary goal was to improve the online user experience for our families while making the platform more efficient for the thousands of volunteers who drive our non-profit organization. Sports Connect demonstrated the ability to meet that goal," said Seth Peloso, Director of CYO. "We believe this partnership and investment in our online infrastructure will ultimately allow all of us to focus on what's most important; the kids."
Key benefits for CYO NY parishes utilizing Sports Connect include:
1 – Custom Professional Website Design Branded CYO: Parishes will enjoy a personalized, professional website design that proudly showcases CYO branding.
2 – Automatic Roster Integration with the CYO Database: Sports Connect's advanced integration technology ensures seamless updates of rosters, eliminating redundant data entry tasks and saving valuable time.
3 – Schedule Sync from League to Parishes: The partnership enables a seamless sync of schedules from the league to individual parishes, ensuring everyone stays up-to-date with the latest game schedules and changes.
4 – CYO Custom Sports Connect Training and Support Guides: Sports Connect will equip CYO NY parishes with comprehensive training and support resources, empowering them to make the most of the platform's features efficiently.
In addition to these exclusive benefits, CYO NY-affiliated parishes have access to a full suite of features, including Mobile-First Registration, secure payment processing, safety and compliance tracking, data insights, integrated Fan Wear sales, and much more.
Moreover, to further enhance their experience, the participating CYO NY parishes will have access to Stack Team App. Stack Team App is a powerful platform enabling teams to customize their own smartphone app for improved communication and team management. Sports Connect is seamlessly integrated with Stack Team App, providing a comprehensive suite of tools to enhance team interactions.
The alliance between Sports Connect and CYO NY strengthens the commitment of both organizations to the welfare and development of young athletes. By harnessing cutting-edge technology and dedicated support, Sports Connect and CYO NY are poised to transform the youth sports landscape in New York for the better.
For more information about Sports Connect and its services, visit https://sportsconnect.com/..
Affiliated programs of the CYO can contact Seth Peloso (seth.peloso@archny.org) to learn more about how Sports Connect will integrate with their programs.
About Stack Sports:
With nearly 50 million users in 35 countries, Stack Sports is a global technology leader in SaaS platform offerings for the sports industry. The company provides world-class software and services to support national governing bodies, youth sports associations, leagues, clubs, parents, coaches, and athletes. Some of the largest and most prominent sports organizations including the U.S. Soccer Federation, Little League Baseball and Softball, and Pop Warner Little Scholars rely on Stack Sports technology to run and manage their organizations. Stack Sports is headquartered in Dallas and is leading the industry one team at a time focusing on four key pillars — Grassroots Engagement, Participation Growth, Recruiting Pathways, and Elite Player Development. To learn more about how Stack Sports is transforming the sports experience, please visit https://stacksports.com/.
About the CYONY:
The Catholic Youth Organization of the Archdiocese of New York (CYONY) is a division of Catholic Charities Community Services serving over 25,000 children throughout the parish and school communities of the Archdiocese.
The mission of CYO is to provide the highest quality programs to our young people. We are committed to provide these programs based on integrity, fair play and the right of all individuals to participate. We view our responsibility as extending far beyond the mere teaching of athletic skills. Our programs offer the opportunity to develop moral standards in all of our young people.
The Catholic Youth Organization strives to develop values and strength of character in tomorrow's leaders through spiritually based athletic, cultural and volunteer activities.
MULTIMEDIA:
Image link for media: https://www.Send2Press.com/300dpi/23-0808-s2p-sc-cyo-300dpi.jpg
News Source: Stack Sports
To view the original post, visit: https://www.send2press.com/wire/sports-connect-announces-new-partnership-with-catholic-youth-organization-new-york-cyo-ny/.
This press release was issued by Send2Press® Newswire on behalf of the news source, who is solely responsible for its accuracy. www.send2press.com.