NEW YORK, N.Y., July 20, 2023 (SEND2PRESS NEWSWIRE) — HitPaw, a famous software developer focuses on photo and video solutions, is about to announce the Online QR Code Art Generator. With its help, you can experience the beauty of QR code and create the unique one of your own.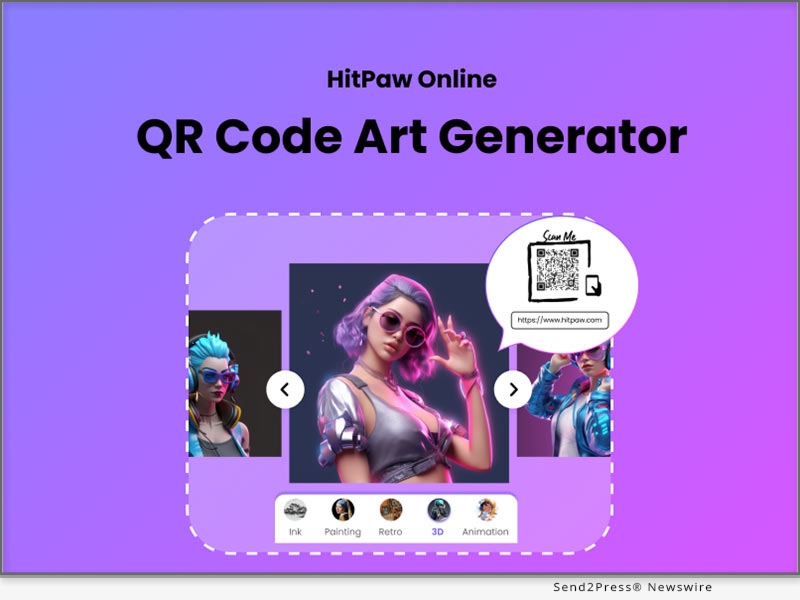 Image Caption: HitPaw Online QR Code Art Generator.
HitPaw Online QR Code Art Generator is an amazing online tool that helps you to create QR code without the need for coding or programming. It provides some art styles with you and apply it to the QR code to make it visually appealing.
Here are some of its surprising features:
1 – stylish design
HitPaw Online QR Code Art Generator is a online tool that offers a variety of visually appealing designs and patterns, which makes your QR code differs from other's and transforms ordinary QR codes into captivating artworks.
2 – customization options
HitPaw Online QR Code Art Generator supports you to personalize your QR codes by pasting your URL or uploading QR code allowing for brand promotion and seamless integration with marketing materials.
3 – enhanced user's engagement
HitPaw Online QR Code Art Generator designs the beautifully designed QR codes to attract and engage users, increasing the likelihood of successful scans and interactions with the encoded content.
Other features:
Easy to use
Cost-effective plans
Compatibility and Price:
Compatibility: HitPaw Online QR Code Art Generator works well both on Chrome and on PC now.
Price: Starts from $4.99 for per week, $14.99 for per month and $119.99 for per year.
Want to know more information about HitPaw Online QR Code Art Generator? Visit: https://online.hitpaw.com/qr-code-art-generator.html
About HitPaw:
HitPaw is an emerging software company specialized in video editing, screen recording, watermark removing, image editing, photo enhancing meme-making, etc. We help users turn their inspiration into reality so that we can generate more ideas to make the world be full of more creativity.
To know more, you may visit https://www.hitpaw.com/about.html and https://online.hitpaw.com/.
Our Social Media:
YouTube: https://www.youtube.com/channel/UCQwRggaotgiMcPbiCOsJeBA
Facebook: https://www.facebook.com/hitpawofficial
Twitter: https://twitter.com/hitpawofficial
Instagram: https://www.instagram.com/hitpawofficial/
Pinterest: https://www.pinterest.com/hitpawcom/
News Source: HitPaw
To view the original post, visit: https://www.send2press.com/wire/hitpaw-launches-its-online-qr-code-art-generator-a-creative-qr-code-generator/.
This press release was issued by Send2Press® Newswire on behalf of the news source, who is solely responsible for its accuracy. www.send2press.com.